I am writing this short article to let you ALL know about Fermata's newly launched Music Theory Club that we encourage all Fermata Students to join.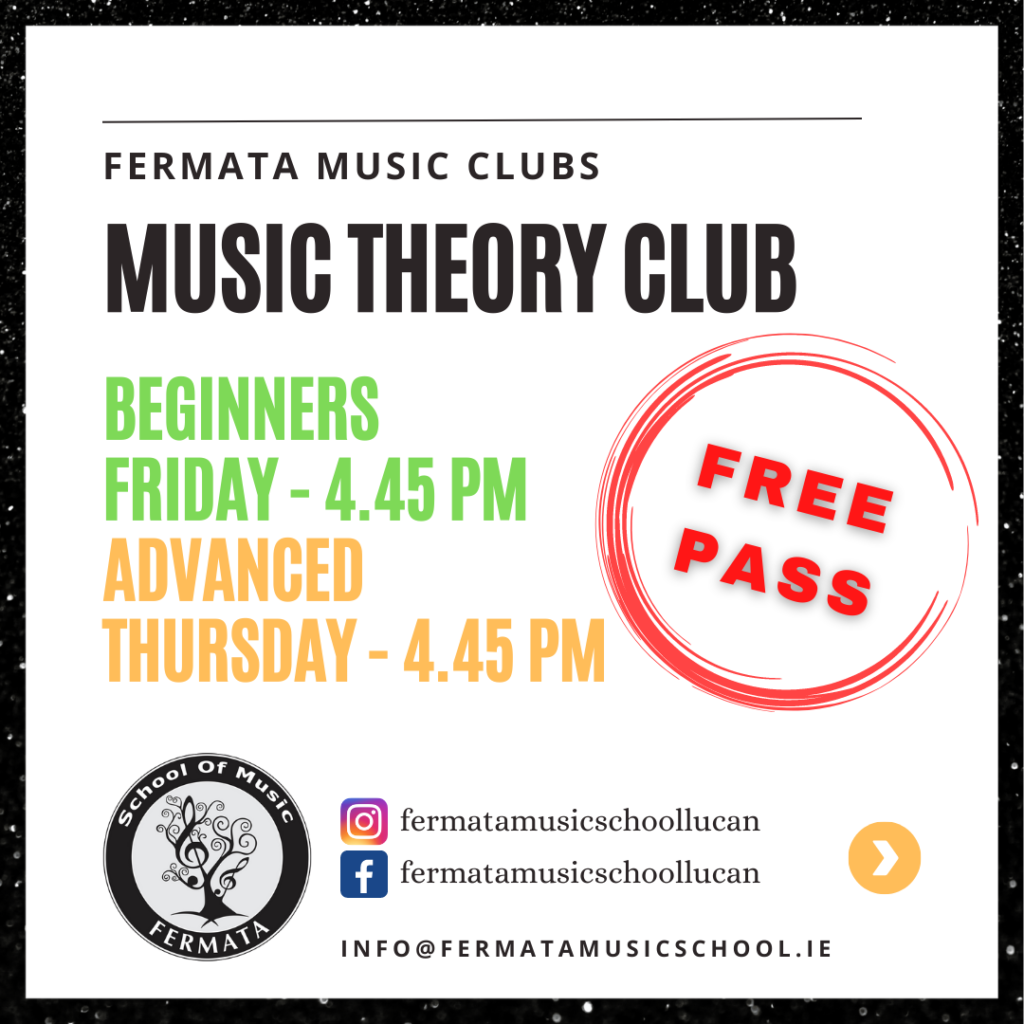 Why should you join Music Theory Club? Here are the TOP 4 REASONS why Music Theory is SO IMPORTANT:
I. MUSIC THEORY ALLOWS US TO EXPRESS OURSELVES
Music theory provides us with a way to understand and articulate what's going on in the music that we are working on. If music is a language, theory can be its lexicon. As we expand our vocabulary, we are not only able to expand our ability to talk about our favorite pieces but music in general, while also improving our capacity to express ourselves in more free, rich, and nuanced ways.
II. STUDENTS ATTENDING MUSIC THEORY COMMUNICATE BETTER
In a similar way to our everyday language, music theory allows us to condense complex ideas into concise terms and phrases. We can understand terminologies such as time signature '4/4', how the strength of the beats affects the pieces, why 'a Dominant chord' brings tension to a musical phrase, to convey complex ideas to one another in a simple but meaningful way. In this sense, the theory allows us to be more specific, while also being more efficient.
III. MUSIC THEORY KNOWLEDGE DEEPENS THE ENJOYMENT OF MUSIC
With music theory, we can gain insight into why and how certain chords flow into one another, how different harmonies fit together, and which rhythms accentuate one another. We can certainly use these learnings to craft our own tracks. Conversely, we can also use them to analyze an existing song and extract what we like about it.
As you all know, Music Theory is an INTEGRAL ELEMENT of each MUSIC EXAM. When you are playing your 3 or more pieces on the exam without having a FULL understanding of the Music Theory behind your performed pieces, you may struggle to deliver the piece to the examiner's expectation. To achieve higher scores from each performed piece, you need to have a very good understanding of what principles of Music Theory will apply to each individual piece. It's like knowing THE RULES OF THE ROAD before your Driver's Licence exam. Better knowledge of the theory gives you a BETTER PASSING chance when driving with the examiner. The same principle applies to any MUSIC EXAM. When attending Fermata for your SOLO lessons, your teacher will try to pass as much THEORY knowledge as possible to ALLOW for PASSING the exam, however, each time spends on Theory leaves LESS time to work on OTHER elements of EXAMS – AURAL, SIGHT-READING, SIGHT-SINGING or SCALES.
REMEMBER: Music Notes themselves are like words of a text, they can be either dramatic, like reading a love text, such as the dialogues between Romeo and Juliet by William Shakespeare, an important event or just reading any ordinary news. Music theory is the tool that allows understanding the meaning of each part of the music, thus, allowing us to find inside of ourselves our own voice, and how we are going to express it in the music, in our performances, and in our lives.
---
At Fermata School of Music, we know, how important it is to understand the "rules of the road" when it comes to playing your next recital or exam piece. 
Did you hear that Fermata Music Theory Club has an ULTRA SPECIAL OFFER? For 1 WEEK ONLY (until 26-January) you can book a MUSIC THEORY CLUB for FREE! Here is the CATCH! There are ONLY 20 FREE PASSES up to GRAB, so ACT QUICK! Book via the Students/Parent portal or drop us a message.
BOOK NOW via Students and Parent Portal
---
Refresh your Music Theory knowledge with one of #FermataTeam members – Alan or Sharon. Each Music Theory Club brings you some new and exciting skills and expands your Music Theory knowledge.
To book your complimentary Group, simply log in to the Students and Parent Portal and register for any given event that's scheduled in our Calendar, please remember, only MUSIC THEORY classes are OPENED events.
Let's learn the MUSIC THEORY together with #FermataTeam!
Tomasz
#FermataTeam