Hi, my name is Alan Guerreiro and I am one of the guitar teachers in Fermata School of Music Lucan!
In this article, I am going to talk a little bit about the composer of the month, my favourite composer, Johann Sebastian Bach
Johann Sebastian Bach (1685 – 1750)
Johann Sebastian Bach was born in March of 1685, in the city of Eisenach, in the state of Thuringia, Germany. he was the 4th generation of a family of musicians, many of his cousins and uncles were important musicians in Germany, his father, Johann Ambrosius Bach was the musical director of two cities, who likely taught violin, harpsichord and music theory to Bach at a very young age; and at least the 5th generation of a Lutheran family, his faith would be a determinant factor throughout his whole life and compositions. Throughout his life, he would compose in various styles and genres for several different instrumentations, we could say that almost all of his compositions have a religious character, message, according to many musicologists, even his instrumental works, have hidden messages from the Gospels.
Yet in his childhood, in 1694, when little Johann was only 9 years old, his mom died, 10 months later, his dad passed away. After losing his father, he moved to his older brother's house, his brother was a musician as well, he had several music books and scores. Even despite being forbidden to getting them, because scores were so valuable and private, and blank ledger paper of that type was costly, the young Sebastian spent countless nights secretly studying his brother's music scores, under poor illumination. This fact would culminate in a very sad point that will be discussed later.
In 1700, at the age of 15, Bach was enrolled in the prestigious St. Michael's School in Lüneburg, after graduating from this school, in 1703 he was appointed as a musician in the court of Weimar.
One very interesting episode that demonstrates clearly how much he loved music and was interested in enhancing his musician skills happened when the prominent Danish organist Dietrich Buxtehude went to perform in Germany, Bach went to his concert, walking a distance of more or less 450-kilometres. After the concert, he could get in touch with the great Danish organist.
2. Köthen (1717 – 1723)
Talking about the intense and prolific life of one of the greatest Genius of music would take us months, not to make our conversation too long, we can say that Bach would work in many important courts in Germany. We are going to focus on the period that he worked as the Kapellmeister in the Court of Leopold, Prince of Anhalt-Köthen, in Köthen, Germany. Leopold was also a musician and a deep admirer of the German composer's art. This short period from 1717 to 1723 that he lived in Köthen would be enough to immortalize him as one of the greatest composers of all the times. It is believed to the only period in his life that he did not have to compose for the religious services, it occurred because of the high admiration Prince Leopold had for the composer, and Leopold's interest in instrumental music.
From this period we find some of his most important instrumental compositions that have been challenging musicians over the last century. His instrumental works, independently from the instruments that the German master composed for, are technically and intellectually very demanding. From this period we can find masterpieces such as the orchestral suites, cello suites, sonatas and partitas for solo violin, the Brandenburg Concertos and what the classical guitarists consider to be his direct legacy, the Lute suites.
What we consider as a classical guitar, is historically a new instrument that was developed in Spain in the transition from the nineteenth to the twenty-century by a historical partnership between the great Spanish guitar maker Antonio Jurado Torres and the legendary guitar composer Franciso Tárrega. The instrument developed in collaboration would be what is considered the modern guitar, the Torres guitar would influence the construction of all the guitar over the twenty and twenty-first centuries. We will discuss the history of the guitar in another opportunity.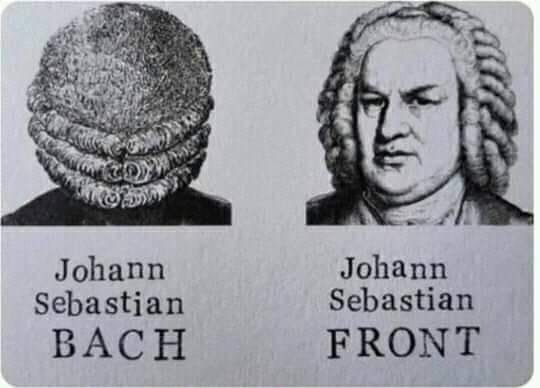 In the Baroque period, there was no such instrument as the guitar as we know nowadays, however, there was an interesting range of plucked instruments such as theorbo-lute or lutes that had a different number of courses such as 11, 12 or 13.
One of the greatest composers for the lute was another German composer, who lived in the same period, Silvius Leopold Weiss (1687 – 1750). According to the writer Johann Friedrich Reichardt, Weiss was a friend of the composer Wilhelm Friedemann Bach, Bach's second-oldest son. Through Wilhelm, his father and Weiss have met each other and discussed music, and likely have influenced each other after this meeting. Weiss was a lute-virtuoso, his compositions are very idiomatic to the instrument, even on the modern guitar, his writing is still very idiomatic, while Bach's lute music is highly complex from many aspects.
In Baroque time, there was a very instrument that is known a the lautenwerck (lute-harpsichord), this instrument has a resonance box in the shape of a lute, however, it has a keyboard.
The instrument Bach had in mind in his compositions attributed to Lute, has been highly discussed in the music community.
3. The Classical Guitar in Bach's Music
The classical guitar repertoire has appropriated his Lute works as his legitimate legacy to the guitar.
This repertoire counts with the following suites:
BWV 995, BWV 996, BWV 997, BWV 998, BWV 999, BWV 1000 and BWV 1006a.
You might be asking yourself what is a Suite and what does BWV stand for? Suites are groups of dances the survived Renaissance, however, differently from the latter, in Baroque the dances were not necessarily meant to be danced, the music got more independence from the danceable perspective. BWV means the 'Bach works catalogue, in German Bach-Werke-Verzeichnis.
We can say the lute had a special place in his heart, as he wrote arrangements for the lute of pieces that he had previously written to other instruments, such as the suite BWV 995, this suite was primarily written as the suite BWV 1011, the 5th cello suite.
When one analysis the similarities and differences between his writing for the cello to the lute version, it is highly safe to assume that he composed firstly to cello and later and he expanded, developed the same piece in an instrument with a wider harmonic capability.
The same situation occurs in many other compositions, it shows clearly that he was always looking for new possibilities of expressing his musical ideas through different instruments.
In his lute compositions, we can find elements from the Cantatas, the Well-Tempered Clavier among his other masterpieces.
The classical guitar repertoire has absorbed as his own, the solo repertoire of flute, violin, cello and several harpsichord pieces. Some guitar performers have expanded, adapted the voicings of Bach's compositions into the guitar spectrum, while in melodic instruments the polyphony is implied, on the guitar, it is possible to maintain simultaneously independent lines, voicings. A process that Bach himself made in several instances, adapting the musical text from one instrument to another according to the possibilities of the instrument he had in mind.
This will be part of my doctoral degree research, as we discussed before, the common plucked instruments of the Baroque could have up to 13 strings, a range of notes that is much wider than the range of the classical guitar. To be able to perform this repertoire without the restrictions of the notes' range of the classical guitar, I embraced a new kind of guitar that counts with 8 strings, this guitar offers a significative expansion in the lower as well as in the higher registers.
This guitar is known as the Brahms Guitar, it allows us to have access to pieces of other instruments such as the cello, piano, harpsichord, harp, etc, repertoires that would not be feasible to perform on the traditional guitar.
My research intends to provide a repertoire to the Brahms guitar, which currently has not been published yet, and also to provide what seems to be the first technical guide, method for the Brahms guitar.
4. Leipzig (1723–1750)
In 1723, Bach was appointed Thomaskantor, Cantor of the St. Thomas School at the St. Thomas Church in Leipzig, which provided music for four churches in the city, he was also required to instruct the students of the Thomasschule in singing and teaching Latin. From this period we find some of these greatest works, such as the Passions of St. Matthew and St. John.
Becoming blind, he underwent eye surgery, in March 1750 and again in April, by the British eye surgeon John Taylor, a man widely understood today as a charlatan and believed to have blinded hundreds of people, including the great German Baroque composer George Friedrich Haendel. Bach died on 28 July 1750 from complications due to the unsuccessful treatment.
Bach was married twice and had 20 children, some of his sons have become important composers such as:
Wilhelm Friedemann Bach (1710 – 1784)
Carl Philipp Emanuel Bach (1714 – 1788) Nowadays we can have access to Bach's works due to the effort of Carl Phillip to gather and preserve his father's works.
Johann Christian Bach (1735 – 1782) had a significant influence on Haydn and Mozart's concertos style.
He was a multi-instrumentist and great if not one of the greatest music improvisers ever, and a highly educated man. His latest works such as The Art of Fugue testifies an unseen complex level of counterpoint. In his last years, he started to be considered an out-fashioned composer with aesthetical changes of arts and music to the next period.
We could say that his revival occurred when his compatriot, the German composer Felix Mendelssohn Bartholdy (1809 – 1847) performed the Bach's Saint Matthew Passion in 1829.
Bach's legacy has a major influence on the western-music and his works have been focused on countless academic studies; composers such as Haydn, Mozart, Beethoven, Brahms among many others have expressed their deep admiration of his works.
To finish this quick introduction of my favourite composer, I would like to quote another of my favourite composers, Beethoven:
"Nicht Bach! Meer sollte er heissen: wegen seines unendlichen, unerschoepflichen Reichtums an Tonkombinationen und Harmonien." – "Bach should be called a sea, not brook, because of the never-ending richness of his harmonies." (Bach in German is a common surname and also means the word brook).
In my opinion "Bach the immortal god of harmony"
Thank you very much for reading and see you soon!
Alan Guerreiro – Fermata School of Music Lucan
Website: www.fermatamusicschool.com
E-Mail: info@fermatamusicschool.com
Article References:
Christoph Wolff: Johann Sebastian Bach: The Learned Musician
Frank Koonce: Bach Solo Lute Works for Guitar
Karl Geiringer: Johann Sebastian Bach: The Culmination of An Era
Tilman Hoopstock: The lute works of Bach volumes 1 and 2
Tilman Hoopstock: Polyphony in Bach's Fugues for Lute
[i] [i][i] Many of Bach's music has survived from the copy of his students, so not all of the manuscripts were directly written by him.