Hello dear, Fermata Community!
Welcome to the Fermata June Newsletter! As we approach the end of Term 3, we want to take a moment to express our gratitude for your continued support and dedication to music education. It has been an incredible journey, and we are thrilled to have been a part of your musical growth and development.
Please note that regular lessons for Term 3 will be finishing up on June 25th. This will mark the conclusion of another successful term filled with learning, progress, and beautiful music. We are incredibly proud of all our students for their hard work and achievements.
Looking ahead to the next academic year, we want to remind you that deposits for the Academic Year 2023/2024 are due by June 25th. Securing your place early ensures that you won't miss out on the opportunities and benefits that come with being a part of Fermata Music School. The deposit is €75 per family and can be paid online or in-person at our school office. Invoices will be issued from 12-June.
We appreciate your prompt attention to this matter, as it helps us better plan for the upcoming academic year and ensures a smooth transition for all students. Should you have any questions or need further assistance regarding the deposit or the upcoming year, please don't hesitate to reach out to our administration team.
---
FERMATA KEY DATES – JUNE
DEPOSITS DUE – Sunday, 25 June [€75/family]
LAST DAY OF TERM3 – Sunday, 25 June [some replacement lessons might happened after that date, agreed on individual basis with your teacher]
SUMMER MINI RECITALS: Week 26th-30th June [as agreed with your teacher], two contingent dates: 1st & 2nd July
SUMMER LESSONS: available after discussing with your teacher, from 26 June until 31 July 2023.
---
DON'T MISS OUT ON FERMATA SUMMER CAMPS!
Are you ready to embark on a musical adventure this summer? Look no further than Fermata Summer Camps! At Fermata School of Music, we offer an array of engaging and enriching summer camps designed to ignite your child's passion for music. From exploring different instruments to collaborative performances and creative activities, our camps provide a unique opportunity for children to learn, grow, and have a blast in a supportive and inspiring environment.
Discover the Variety of Fermata Summer Camps this JULY! Fermata Summer Camps cater to a wide range of musical interests and age groups. Let's take a closer look at some of our exciting camps.
Music Summer Camp:
Dates: 3-7 July | Duration: 10.00am-1.30pm [€169]
Unleash your musical talents in our Music Summer Camp! Designed for ages 6-12, this camp offers a comprehensive musical experience where students can learn various instruments, play musical games, and receive certificates and mini gift packs. Limited spots available, so don't miss out on this unforgettable opportunity! ONLY 12 PLACES AVAILABLE
Craft Summer Camp: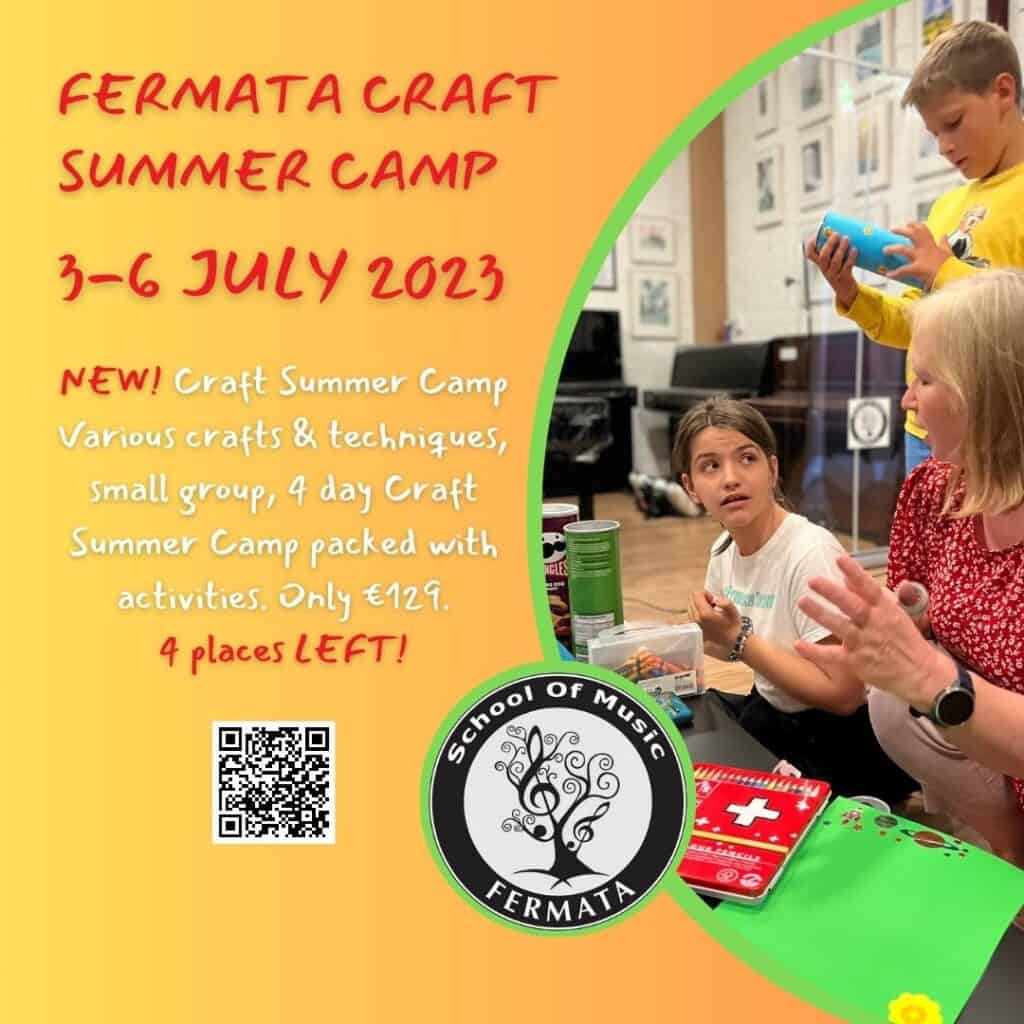 Dates: 3-6 July | Duration: 2.00pm-4.30pm [€129]
Calling all young artists! Our Craft Summer Camp is the perfect choice for ages 6-12. Engage in various craft activities such as acrylic paint pouring, glass jar painting, beaded jewellery making, and more. Let your creativity shine and take home beautiful creations. Limited spots available, so secure your spot now! ONLY 3 PLACES ARE LEFT!
Little Music Roots Camp:
Dates: 10-13 July | Duration: 10.00am-1.00pm [€129]
Introduce your little ones aged 4-6 to the world of music through our enchanting Little Music Roots Camp. We adapt the Kodaly method with lots of twists and extras, providing a fun and engaging experience for our youngest music enthusiasts. Limited spots available, so don't miss this chance to nurture their musical talents from an early age. ONLY 5 PLACES ARE LEFT!
Guitar Summer Camp:
Dates: 17-20 July | Duration: 10.00am-1.00pm [€169]
Calling all aspiring guitarists aged 10-16+! Join our Guitar Summer Camp and take your skills to the next level. Whether you're a beginner or have some experience, our camp offers a supportive and dynamic environment to develop your guitar playing abilities. Limited spots available, so reserve your spot today! ONLY 7 PLACES AVAILABLE
Rock Summer Camp:
Dates: 17-20 July | Duration: 2.00pm-5.00pm [€169]
Ready to rock out this summer? Our Rock Summer Camp is designed for ages 10-16 who want to unleash their inner rockstar. Jam with fellow musicians, learn rock classics, and showcase your skills in a talent show. Limited spots available, so grab your spot and get ready to rock the stage! ONLY 8 PLACES AVAILABLE
Why Choose Fermata Summer Camps? Here only FEW of the benefits emerging from Music Summer Camps with Fermata Team.
And to mention just few more BENEFITS…
Professional Guidance: All camps are led by qualified and experienced educators from Fermata School of Music, ensuring high-quality instruction and mentorship.
Collaborative Learning: Students have the opportunity to collaborate with peers in small groups, fostering teamwork and musical growth.
Confidence Building: Performances and mini-recitals allow students to showcase their skills and gain confidence in their abilities.
Fun-Filled Activities: Engaging musical games, creative crafts, and interactive sessions make learning enjoyable and exciting.
Lifelong Friendships: Fermata Summer Camps provide a supportive community of hardworking musicians and students, fostering friendships that can last a lifetime.
LOOKING FOR GREAT TIME with MUSIC THIS JULY? Give your child the gift of music this summer with Fermata Summer Camps. With a variety of camps to choose from and a team of passionate educators, Fermata School of Music is dedicated to providing an unforgettable musical experience. Don't wait! Enrol your child today and watch them flourish in a supportive and inspiring environment. Get ready to make music, create memories, and unlock their musical potential at Fermata Summer Camps! Don't Miss Out! Spaces for Fermata Summer Camps are limited, so make sure to reserve spot now. Visit our website https://fermatamusicschool.ie/music-summer-camps-2023/ for more information and to secure your place. Let your child's musical journey begin with Fermata Summer Camps!
---
SUMMER MINI-RECITAL(s) WITH FERMATA TEAM
Get Ready to be dazzled by our Mini-Concerts featuring Talented Students from various classes, including PIANO, VIOLIN VOCAL and GUITAR performances.
At the mini-concert, you'll witness our talented students perform selection of pieces they have been working hard over the last few months. This is the perfect opportunity for our students to showcase their hard work and progress while providing entertainment for all music lovers.
Don't miss out on this chance to support our talented musicians while enjoying a delightful afternoon of music, tea, coffee, and cakes. Seating is limited, so make sure to reserve your spot today! The groups will be limited to 15-20 performers, so chat to your teacher about the dates for the next mini-recital!
SUMMER MINI RECITALS: Week 26th-30th June [as agreed with your teacher], two contingent dates: 1st & 2nd July – all in Fermata School of Music.
---
FERMATA PRACTICE TIPS FOR GUITAR STUDENTS
Establish a Consistent Practice Routine: Set aside dedicated time each day for practising the guitar. Consistency is key to progress. Even if you can only spare 15-30 minutes a day, make it a regular habit to practise. This will help build muscle memory, improve finger dexterity, and enhance your overall playing ability.
Warm Up Properly: Before diving into your practice session, it's important to warm up your fingers and hands. Start with some basic exercises, such as finger stretches, scales, or chord progressions. This will help loosen up your muscles, improve circulation, and prevent injury.
Focus on Technique: Pay attention to your technique while playing. Make sure you are holding the guitar properly, using the correct finger placement, and maintaining a relaxed posture. Practise good hand and finger positioning, as well as proper strumming and picking techniques. This will ensure clean and accurate playing, and ultimately help you progress faster.
Remember, practice is the key to mastering the guitar. Be patient, stay motivated, and enjoy the journey of learning and playing this beautiful instrument.
---
FERMATA MUSIC NEWS
The results from the 3rd Premier Music Intern are in! What an exciting news to share with you Fermata Community! We have pleasure to inform both Fermata School of Music students participating received prestigious AWARDS at the 3rd Premier Music International Competition! OUR CONGRATULATIONS!
Sophie Mikiciuk – Piano/Voice – Bronze Award
Masha Clifford – Violin – Promising Talent Award
Premier Music International Competition – PMIC
We are also super thrilled to announce that our PIANO STUDENT, Marta Smalec – has been awarded SECOND PLACE in the Irish Youth Piano Festial. 
WHAT AN ACHIEVEMENT, Marta! Our congratulations! See the festival link: https://www.facebook.com/profile.php?id=100077271300514. Marta's performance can be heard just here (approx. 9:00): https://youtu.be/8-FWsKQN-Xw
---
JUNE MUSIC FACTS
The Ruaille Buaille Children's Music Festival is on the agenda this week starting from 7th June and wrapping up on Saturday 10th June with amazing selection of concerts and performances in Griffeen Park, Lucan. For full selection of activities going one, have a looking at this link: Ruaille Buaille Lucan Children's Music Festival
On June 21st, the world celebrates World Music Day, also known as Fête de la Musique. This day is dedicated to the celebration of music in all its forms and genres. It originated in France in 1982 and has since become an international event, with musicians and music lovers coming together to perform and enjoy music in various public spaces. It's a wonderful opportunity to appreciate the universal language of music and its power to bring people together.
Did you know that learning to play a musical instrument can have numerous benefits for students? Research has shown that music education can enhance cognitive skills, improve memory and concentration, boost creativity, and promote overall academic achievement. Playing an instrument also helps develop discipline, perseverance, and problem-solving skills. So, when you or your child takes music lessons at Fermata Music School, you're not only learning to play an instrument, but also gaining a wide range of cognitive and personal benefits that can positively impact various areas of life.
These music facts highlight the universal celebration of music on World Music Day and the valuable advantages of music education for students. Let the power of music continue to inspire and enrich your life!
---
AND THAT'S END OF THE JUNE NEWLETTERS. Just a quick synapsis of hat we have covered in this article!
As we come to the end of another exciting month at Fermata Music School, we want to take a moment to thank you for your ongoing support and commitment to music education. We believe that music has the power to transform lives, and we are proud to be a part of your musical journey.
We would like to remind you that deposits for the Academic Year 2023/2024 are due by June 25th to secure a place for the upcoming year. Your early deposit ensures that you won't miss out on the incredible opportunities and experiences that await you at Fermata Music School. Secure your spot now and continue your musical education journey with us!
In addition, our Fermata Summer Camps are just around the corner, offering a fantastic opportunity for students of all ages to dive into the world of music, explore their creativity, and make lasting memories. Don't miss out on the Music Summer Camp (3-7 July), Craft Summer Camp (3-6 July), Little Music Roots Summer Camp (10-13 July) and Guitar & Rock Summer Camps (17-20 July). Enrol today and let the magic of music fill your summer days. SUMMER CAMPS – BOOK HERE
As we strive to provide the best possible experience for our students, your feedback is invaluable to us. If you've had a wonderful experience with Fermata Music School and believe we've done a great job, we kindly ask you to consider leaving us a Google review: [REVIEW US ON GOOGLE]
Your positive feedback will not only inspire us but also help others in the community discover the joy of music education with #FermataTeam. Thank you for your support!
We have many more exciting events and opportunities coming up in the next few months, and we can't wait to share them with you ahead of the new start in September. Stay tuned for updates on our upcoming events, and group classes. At Fermata Music School, we are committed to your musical growth and look forward to seeing you soon!
Once again, thank you for your continued support, and we wish you a lovely day filled with music and inspiration.